Mercedes Benz
Mercedes-Benz
- a German manufacturer of trucks, buses and cars. Currently the company is a division of Daimler AG with headquarters in Stuttgart, Germany.
It was found in 1881 by Karl Benz (creator of the first petrol-powered car) and Gottlieb Daimler. The first vehicles under Mercedes-Benz brand were produced in 1926, after the merger of Karl Benz's and Gottlieb Daimler's companies into the Daimler-Benz company.
Many technological and safety innovations that later became common in other vehicles have been introduced by Mercedes-Benz. Mercedes-Benz is one of the world's largest truck manufactures and at the same time is the oldest automotive brand that still exists today.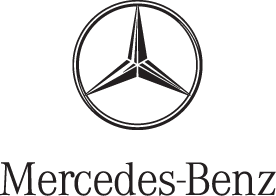 Mercedes-Benz logo
Trademark origins
The iconic three-pointed star is unmistakably recognized all over the world.
Since 1926, when two companies merged, its design was changed in many ways.
The early logo was trademarked in the United States on 16 August, 1929. The application provided the following description for Mercedes-Benz: "automotive vehicles, as follows: passenger cars and freight trucks; parts of and accessories to said vehicles...".
The USPTO (United States Patent and Trademark Office) described the design of Mercedes-Benz logo with three aspects: 1) Star with three points; 2) Wreaths of laurel, garlands, bands and plants frames; 3) Circular or elliptical seals.
Later Daimler-Benz develops the new logo and its representation in their 1928 application. Basing on their description, they combine the design components from each company and create a new logo that reflects the legacy of each company. The trademark was applied to goods that have been used in business of the applicant and its predecessors since the following dates: the word 'Mercedes' - since December 1900, the word 'Benz' - since July 1896, the representation of a three-pointed star - since June 1909, the representation of a laurel wreath - since September 1909.
U.S. trademark registration was granted on 28 July 1931. Its current status is registered and renewed with the latest owner Daimler AG.
Mercedes-Benz truck range
Mercedes-Benz L-series - a conventional cab-after-engine truck manufactured from 1958 to 1995
Mercedes-Benz Atego — light truck (7-16 t.)
Mercedes-Benz Axor — mid-sized truck (18-26 t.) in rigid and articulated
Mercedes-Benz Actros — heavy duty rigid and premium articulated (18-250 t.)
Mercedes-Benz Econic — low floor variant of the Axor for refuse and special purposes
Mercedes-Benz Unimog — truck for transport across extreme terrain
Mercedes-Benz Zetros — off-road truck for extreme operations
1828L (F581) - Mobile Casualty Treatment Center
1517L - Mobile Casualty Treatment Center
External Links